Bike Trailer (version 2)
Version 2 has been designed to go through doors (70 cm width), able to carry heavy dury (at least 40 kg), and multi-purpose. It takes the same approach as version 1 with an inner width matching the plastic boxes.
It is made of 6 square tubes 700x20x20 mm. The attach tube is a 20x20 mm tube with re-inforced 45 degrees angle. The attach is a simple bolt with hole at the end (I should replace this with a uniball). Fixing on the bike is done with a simple piece of metal fixed to the wheel axle. Compared to version 1, fixing is now in the middle of the piece of metal.
Arm from the top in the 26" configuration. It should be reduce for the 20" wheels of the Trike.
The arm is fixed to the body of the trailer with two bolts (ok for 45 kg of loading at least).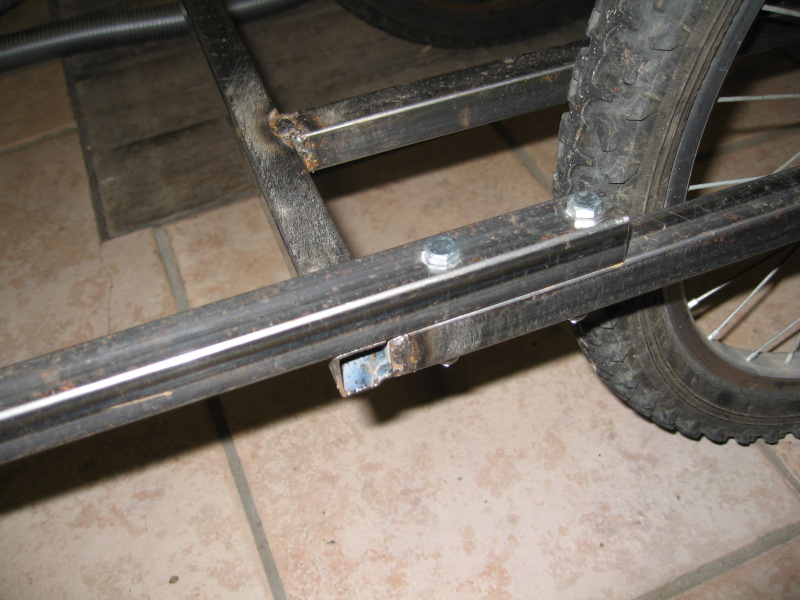 The fix between the trailer and the bike is a simple "bolt with hole" (8 mm).
The fix on the rear wheel is a piece of iron bent in two (10 * 5 cm and .5 mm thick).
Configuration with plastic boxes to carry 30 cm pieces of wood ready for our fire place.
Configuration with strap (6 meters with sailing knots) to carry pieces of wood (60+ cm) before cutting to proper size.
Configuration for the trike (with 20" wheels, the connexion arm between the trailer and the trike has to be shorten) back from shopping with 45 kg of grocery in the four plastic boxes.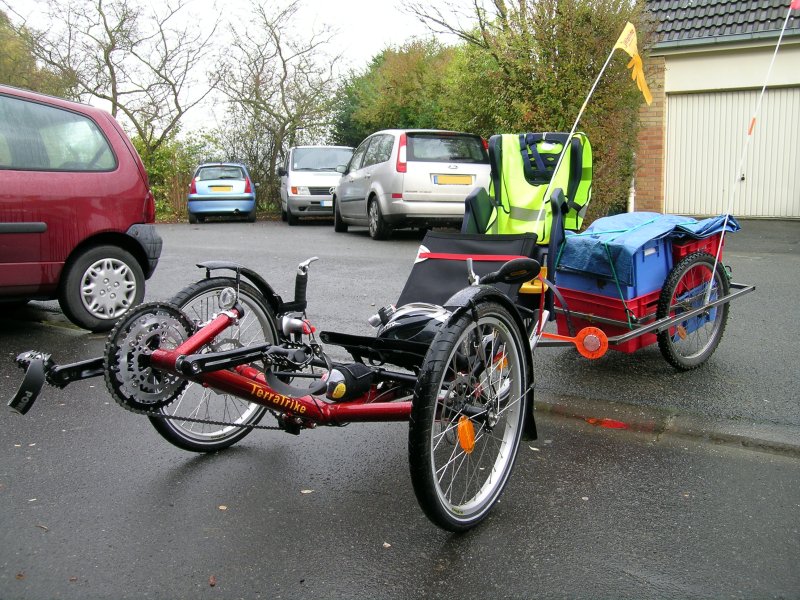 And now:
Make a second frame similar to the inner frame of the trailer in order to fix it with silent blocks to behave as suspension.
Make a removable "roof rack" to carry wider stuff (it will be about 50 cm on top of the current frame).
It took one afternoon to build. Wheels are dumped ones... picked up on the street.
| Element | Price (EUR) |
| --- | --- |
| Tubes | 20 |
| Inner tubes | 06 |
---
Sun Oct 14 21:11:09 CEST 2007